I: Introduction.
Dalmatia (now part of Croatia) became a province of the Austrian Empire after the Napoleonic Wars. Under the "Ausgleich" of 1867 (the treaties under which the administration of the Empire was effectively divided between Austria and Hungary), Dalmatia remained Austrian territory, although physically separated from it by the province of Croatia, which was part of Hungary.
The railway-system of today:
Copyright: Elmar Oberegger
In the past, the Kotor Bay district was also part of Dalmatia, but has been part of Montenegro (Crna Gora) since 1945.
Development of railways in Dalmatia came later than in other places. The first railway (from Split to Siveric) was only opened in 1876.
Even by the end of the Austro-Hungarian Empire in 1918 the provincial capital, Zadar, had no rail link. The difficulty was that, during this time, it was not possible to build a railway to the centre of Austria without crossing Hungarian territory, and political rivalry between Austria and Hungary made this impossible.
The railway-system of Dalmatia before the First World War. Incl. exterritorial lines and projects which were important for its civil and military development:
Copyright: Elmar Oberegger
At this time, Dalmatia depended almost entirely on coastal shipping for its transport needs. Military supply was a particular problem. If the new nation of Italy were to obtain domination of the Adriatic Sea, it was feared it would be able to seize the Dalmatian coastline, and then the whole province.
II: The long way to 1876 and the first railway in Dalmatia.
Projects for railways in Dalmatia appeared in the middle of the 19th century, but were never able to attract finance. Up to 1869 the following projects reached the stage of being published:
1. Trieste-Fiume(now Rijeka)-Zadar-Kotor(Charles Boyd, 1861)
2. Split-Livno area-Beograd(Anton Bajamonti, mayor of Split, 1862)
3. Zadar-Knin-Osijek(City of Zadar), and Split-Knin(Split Bureau of Trade) (both around 1862)
4. Karlovac(in the Lika district)-Knin-Split/Sibenik(Bernhard von Wullerstorf-Urbair, Austrian Minister of Trade, 1866)
5. Split-Novi Sad-Budapest(Earl Eugen Zichy, 1868)
6. Construction of a Dalmatian network(Ralph Earle)
7. Split-Drnis-Knin-Bosanski Novi-Barcs(Pongratz Brothers, 1869)
8. Split / Sibenik / Zadar-Bosanski Brod-Osijek(Stephan Türr, 1869)
In 1866 the Austrian Government began to mark out several rail routes in Dalmatia, though little was achieved.
Throughout the Empire, railway development had been opened to private enterprise since 1854, though it seemed that the Government looked favourably on a projected route through the Lika Valley district of Croatia.
At about the same time, Commodore Bernhard von Wüllerstorf-Urbair, the Austrian Minister of Trade, included the Lika route in his great memorandum "Ein Eisenbahnnetz fur die osterreichische Monarchie" of 1866. The title of this document means "A Railway Network for the Austrian Empire". His concept was very ambitious, but excluded Bosnia-Hercegovina, which was not part of the Empire at the time.
The "Reichsbahn-Konzept"(1866) of Wüllerstorf-Urbair):
Copyright: Elmar Oberegger
In 1867, the year of the "Ausgleich", von Wüllerstorf-Urbair retired from politics altogether. Born in Trieste(1816) he loved the sea. He was powerful and ambitious - in his younger days he sailed around the world in his famous ship, the Novara. But he could not stomach the new arrangements. For him the real Austrian Empire was gone.
In 1869, the route Split - Knin - Austro-Hungarian frontier - Lika district - Austro-Hungarian frontier was included in the draft of the Austrian Railway Network Law, but this was only a declaration of intent, as finance remained unobtainable. In the meantime, fresh proposals were published, as follows:
1. Split-Sisak-Barcs, including branches from Knin to Sibenik and Zadar, from Otocac to Senj, and from Ogulin to Brod(Mayor Bajamonti's group)
2. Opuzen (in the Neretva valley) - into Bosnia-Hercegovina(Stephan Türr)
3. Construction of a Dalmatian network(City of Zadar)
4. Korinth and the Adriatic coast to the border of Dalmatia or beyond(a Greek/French group)
In 1871, the Austrian Government put forward a plan to build a main line from Split through Perkovic, Drnis and Knin to Tounj, a station on the Karlovac – Rijeka railway, then under construction, with branches from Perkovic to Sibenik and Ocesovo through Benkovac to Zadar
In 1873, the Empire suffered a great economic crisis, and private capital became very scarce. It became clear that the major private investors were not interested in Dalmatian railway projects, as the region had little natural wealth.
In the same year, the railway from Budapest to Rijeka (Fiume) was opened. The Government of Hungary saw the Dalmatian ports as competitors of of its own port at Fiume and sought to deny them access to rail links with the Croatian hinterland, and in particular to stifle the Lika project.
A new Austrian state railway policy now developed, which lasted until the end of the First World War. The full Lika railway project was beyond their financial capacity, but a start was made on this strategic link. Construction began in 1874, and the line from Split to Siveric was opened in 1876. The next year, the branch from Perkovic to Sibenik followed. There was little traffic for this isolated railway, and in 1888 it was extended to the important centre of Knin.
The "Dalmatinerbahn":
Copyright: Elmar Oberegger
III: Later projects.
In 1878, Bosnia-Hercegovina was occupied by the Austro-Hungarian Army. The first requirement for both the Austrian and Hungarian Governments was to develop this former Ottoman territory economically. A suitable railway system was seen as an essential part of this policy, particularly to link it to the coast of the Adriatic Sea. Two railways were planned:
1. The Narentabahn, from Sarajevo through Mostar to Port Metkovic, on the lower Narenta(Neretva) River, completed in 1890.
The "Narenta-/Neretvabahn":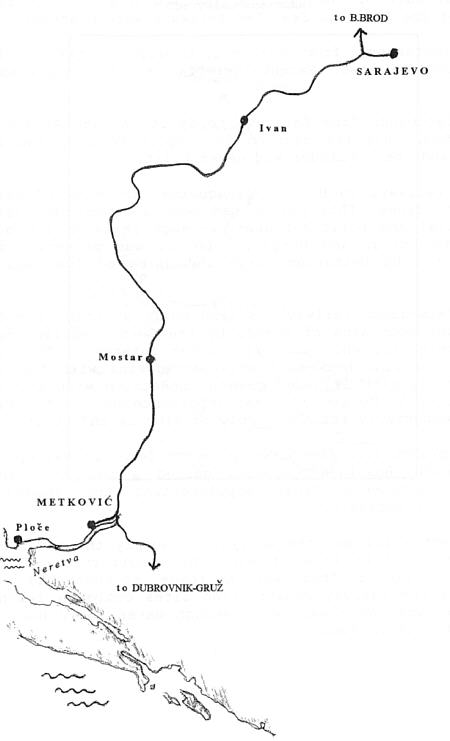 Copyright: Elmar Oberegger
2. The Spalatobahn, from Sarajevo to Split through Arzano and Sinj. By 1903, only the section from Split to Sinj had been completed, and the remainder was never built.
The "Spalatobahn":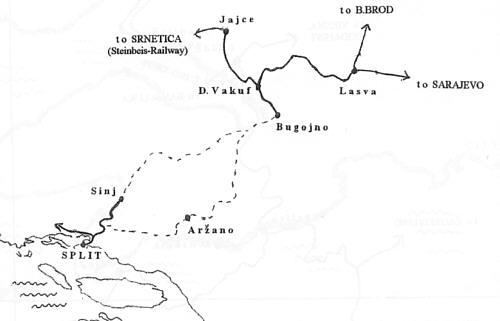 Copyright: Elmar Oberegger
Like other railways in Bosnia-Hercegovina, these were narrow-gauge (76cm) lines. This policy had been adopted for reasons both financial and political. Narrow-gauge railways are quick and cheap to build, and Hungary's policy was preserved that rail links to the Dalmatian ports should be of low capacity only.
A private 76cm-gauge railway was also built at this time from Knin into the mountains of Bosnia by the German entrepreneur, Otto von Steinbeis, who had large timber interests. This line was the second link between Bosnia-Hercegovina with the sea, and its extension to Prijedor gave a connection with the rest of the Empire. It became of great importance during the First World War, especially for the supply of Sibenik and Split.
The "Steinbeisbahn":
Copyright: Elmar Oberegger
In 1901, a branch from the Narentabahn to Zelenica was opened. From a branch, Bosnia-Hercegovina gained a new rail-linked harbour at Dubrovnik Gruz, supplementing the inadequate harbour at Port Metkovic.
Port Dubrovnik Gruz:
Copyright: Elmar Oberegger
More important still was the ability to supply the naval base at Kotor overland in time of war. The construction of this railway was difficult. There were no roads, so these had to be built before the railway construction sites could be reached. And all the time there was never enough water, only heat and grilling hot rock in summer.
The "Zelenikabahn":
Copyright: Elmar Oberegger
IV: Projects before the First World War.
In 1914, before the War started, there were the following projected railways:
1. Connection of the capital, Zadar, with the rest of the system. Two lines were planned, one through Obrovac, and the other through Benkovac.
2. A 76cm railway from Drnis to Metkovic, to link the Zelenica railway with the line from Knin to Split and Sibenik.
Projects in Bosnia-Hercegovina would also have affected Dalmatia. The government wished to develop the corridor Zidani Most-Zagreb-Jajce-Mostar. Existing narrow-gauge sections were to be rebuilt as standard gauge, elsewhere there would be new construction. This would have dovetailed well with the proposal to build a new rail-linked port at Ploce.
Project Steinbrück(Zid. Most)-Jajce-Mostar:
Copyright: Elmar Oberegger
Dalmatia would also have benefited from plans to build a new standard gauge line from Doboj to Samac and to rebuild the narrow-gauge line to Sarajevo.
V: Structural Changes since 1918.
Major structural changes have taken place to the railway system of Dalmatia since 1918. The narrow-gauge lines have disappeared, and some routes now have no rail service at all.
Before 1918, railways had been built according to Austrian interests. A new standard-gauge line was under construction (the Lika Railway) to link Split and Sibenik with the Austrian network. The narrow-gauge lines were all oriented towards the north, reflecting the Austro-Hungarian policy of developing the economy of Bosnia-Hercegovina following their military occupation of that territory. There was an east-west narrow-gauge military railway in Dalmatia behind the coast between Gabela and Zelenica. But there was no rail link between Dalmatia and Serbia.
After the end of the war Dalmatia was suddenly part of a new nation, the South Slav state of Yugoslavia. The centre of power was no longer in Vienna to the north, but now it was in Beograd to the east. Rail links to Serbia and Beograd from Dalmatia were very difficult. There was indeed the line from Zelenica, Dubrovnik and Metkovic to Sarajevo, which continued eastwards, but this line ended at the former frontier between Bosnia and Serbia near Vardiste.
There was a route between Split and Beograd, via Knin, Prijedor, Sunja and Slovanski Brod, but this required trans-shipment at Knin onto the narrow gauge, and at Prijedor onto standard gauge again, and was a very long way round.
By 1925, the narrow-gauge line was extended from Vardiste to Uzice in Serbia, making possible a more direct link with Beograd. But Zadar and Upper Dalmatia were still isolated from the new capital, and for many people the very names of Beograd and Serbia were unfamiliar. The railway network in Yugoslavia was rather undeveloped, so economic and business links were few and weak, and the country's economy remained largely locally-based and rather poor.
Despite this general poverty, the Yugoslav Government did succeed in developing links with Dalmatia to the benefit of the province.
1. In 1925, at the same time as the opening of the narrow-gauge route from Dubrovnik and its harbour at Gruz to Beograd, the Lika Railway was completed, but proved to be of low capacity.
2. In 1937, the first sod was turned for the construction of a new seaport at Ploce. This was named Alexandrovo, after King Alexander of Yugoslavia, who was shot dead in Marseilles in 1934. A new narrow-gauge railway was required for this project to extend the existing line from Metkovic, and this was completed in 1942 by the Italian occupying regime.
3. In 1935, also, a programme of improvements to the line between Metkovic and Sarajevo was begun. The most important project in this programme was the building of a new rail tunnel under the Ivan pass to standard gauge clearances.
4. In 1936, construction also began of the standard gauge Una Valley line between Knin and Bosanski Novi, involving the conversion of part of the narrow-gauge Steinbeis forestry railway between Knin and Licka Kaldrma. This line was intended to supplement the low-capacity Lika Railway, and was eventually completed in 1948.
After the assumption of power in Yugoslavia by Marshal Tito, the country's railway system was almost completely redesigned. The backbone was to be the routes from Sezana (from Italy), Jesenice (from Austria) and Spielfeld (from Austria) via Zidani Most to Beograd. High-capacity branch lines would connect this corridor with seaports, particularly Koper, Rijeka, Kardeljevo (Ploce), and Bar. The opening of the railway from Beograd to Bar in 1976 completed this project.
The opening of the new railway to Bar affected the Dalmatian rail system. Up to 1976 traffic between Beograd and the coast and Montenegro had to go via Sarajevo.
Railway-connection Beograd-Adriatic Coast/Montenegro before and after 1976:
Copyright: Elmar Oberegger
This rail route now became redundant and was closed. Since then, the famous town of Dubrovnik has had no rail connection. There was a plan in 1985 to put this right, but nothing has come of it.
During this period, the Una Valley line was opened throughout in 1948, and, in 1967, Zadar at last got its rail link. The railway from Samac via Sarajevo to Ploce was rebuilt to standard gauge and opened in 1966, and was electrified in 1969. The plans to build railways from Split to Sarajevo and along the sea coast, however, did not materialise.
During this period, also, narrow-gauge lines from Split to Sinj, and from Uskoplje to Zelenica were closed down. These closures were tragedies for lovers of railways, but, at least, duirng this period, Dalmatia gained a modern railway network.
Today the new highway from Zagreb to Dubrovnik is the railways' principal competitor. HZ (Croatian Railways) know this very well, and do all they can to support the railway links. Recently, ICN railcars, modern fast trains, have been introduced between Zagreb and Split, a positive step, without a doubt.
VI: Sources.
BUNIJEVAC Helena: Najskuplja zeljeznica na svijetu. In: EuroCity 3 (2003)
BUNIJEVAC Helena a.o.: 120 godina prvih dalmatinskih pruga. –Zagreb 1997.
BUNIJEVAC Helena: Povijest zeleznickih pruga u Dalmaciji. In: EuroCity 2 (2000)
BUNIJEVAC Helena: Zeljeznica koje vise nema. Povijest uskotracne pruge Split-Sinj. In: EuroCity 1 (2005)
BUNIJEVAC Helena: Povijest privih zeljeznickih pruga u Dalmacij. In: EuroCity 2 (2004)
CHESTER Keith: The Narrow Gauge Railways of Bosnia-Hercegovina. –Malmö 2006.
GELCICH Eugen: Handel, Gewerbe und Verkehr. In: Österreich-Ungarn in Wort und Bild 6. –Wien 1892, 342 ff.
HORN Alfred: Die Bahnen in Bosnien und der Herzegowina. –Wien 1964.
KONTA Jgnaz: Geschichte der Eisenbahnen Oesterreichs vom Jahre 1867 bis zur Gegenwart. In: Geschichte der Eisenbahnen der österreichisch-ungarischen Monarchie I/2, 1 ff.
OBEREGGER Elmar: Eisenbahngeschichte Dalmatiens. Ein Grundriß. –Sattledt 2007.
OBEREGGER Elmar: Zur Eisenbahngeschichte des Alpen-Donau-Adria-Raumes. 3 Bde. –Sattledt 2007.("Port Ploce", "Plocebahn", "Dalmatinerbahn", "Unabahn", "Likabahn" a.o.)
PETERMANN Reinhard E.: Dalmatien. –Wien 1911(Ill. Reiseführer auf den k.k. österr. Staatsbahnen).
RÖLL Victor: Österreichische Eisenbahnen. In: Enzyklopädie des Eisenbahnwesens. Hrsg. v. Victor Röll. –Berlin/Wien 1912 ff.
STRACH Hermann: Allgemeine Entwicklungsgeschichte der österreichischen Eisenbahnen seit 1897. In: GDÖUV, 1 ff.
SUNDHAUSSEN Holm: Geschichte Jugoslawiens. –Stuttgart a.o.1982.
VASILJEVIC Sava: Der Transitverkehr durch Jugoslawien und jugoslawische Seehäfen. –Beograd 1984.
WÜLLERSTORF-URBAIR Bernhard: Ein Eisenbahnnetz für die österreichische Monarchie. In: Österreichische Revue 1866, 22 ff.